Tiger Woods wins the Masters. If ever five words did not do justice to an outcome ???
Let debate now rage as to where this sits in the pantheon of sporting comebacks. Fourteen years after he last put on the Green Jacket, 11 years after last winning a major and 24 months after conceding to friends ???I???m done??? Woods completed a triumph which rates as extraordinary even by his standards.
It seemed poetic for the sensational act to transpire at Augusta, where Woods began altering the shape of golf in 1997. Twenty-two years on, a 43-year-old Woods celebrated more wildly than ever before in the company of his mother and children.
Tiger Woods: five-times Masters champion. The scene was barely believable. That Woods won his 15th major from the position of behind after 54 holes ??? something he had not achieved before ??? hardly registered amid the chaos.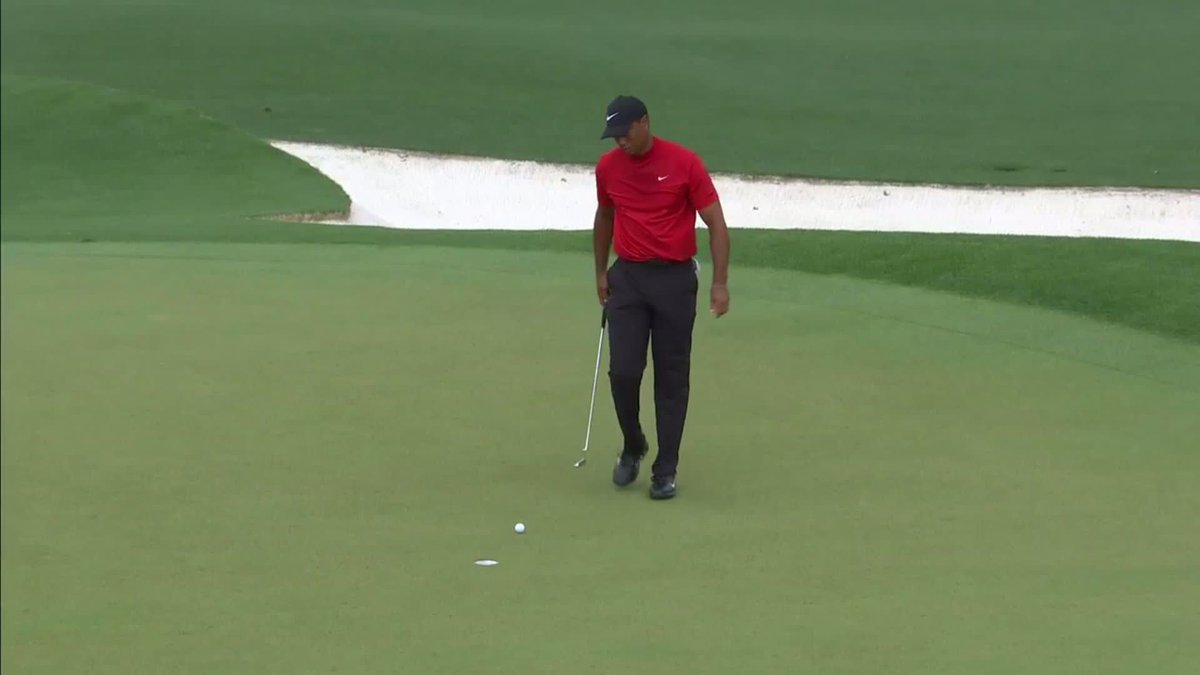 It would require the pagination of a telephone directory to properly record what occurred on this Masters Sunday. Woods???s closing round of 70 for a 13-under-par 275 ensured he won by one from Dustin Johnson, Xander Schauffele and Brooks Koepka; not that anybody seemed particularly bothered about raw details. Superlatives rained from the skies.
Francesco Molinari, who showed such fortitude for three and a half days, wobbled horribly over Augusta???s famous closing stretch. The sorest episode of all for the holder of the Claret Jug arrived at the 15th, where he found the middle of a pond when only 79 yards from the hole. Molinari???s share of fifth does not at all illustrate his contribution to this major.
At 9.20am all 445 yards of the 1st hole ??? with spectators 10 deep in places ??? gave the impression half the state of Georgia was watching the final group. Woods, by his own admission prone to terrible bouts of nervousness before opening tee shots, split the fairway. As Molinari tugged his approach shot long and left, gallery excitement grew; the Open champion was to save par from 13ft.
A straightforward Woods birdie at the 3rd reduced Molinari???s advantage to one. As the wind whipped, Woods under-clubbed his tee shot to the par-three next and paid the penalty by way of a bogey. There was likewise for Woods at the 5th, a hole he played in an aggregate of plus four. Suddenly Molinari was three clear.
The sense this would be Molinari???s day escalated as Woods failed to convert from 11ft for a birdie at the 6th. Molinari, having overshot the green, scrambled quite brilliantly for par. Unbowed, Woods fired an approach to the 7th to tap-in range as Molinari dropped a shot, his first in 50 holes.
Woods produced a contender for shot of the Masters at the 9th, with a lagged downhill putt from 70ft. There was no such salvation on 10 where Woods paid for a pushed tee shot by way of another bogey. Molinari???s advantage was two from Woods and Koepka, with the latter seriously wounded by finding Rae???s Creek from the 12th tee.