A&E consultant, south-west
Who we resuscitate and who will get a ventilator will be challenging. As the only senior doctor on shift in the respiratory zone the ethical decisions will be tricky. I may come into conflict with my intensive care unit colleagues.
We came into this profession on the basis of our goodwill and altruism but that is being put to the test in a very extreme way as we are all really worried about the stocks of PPE (personal protective equipment). I was testing people on an ambulance ramp four weeks ago dressed like I was going to see an Ebola patient, in full PPE with FFP3 masks and visors. I think they realised that wasn???t sustainable as the patients kept coming through. I???m now treating suspected Covid patients with a level one surgical light blue mask and scrubs.
There???s a discrepancy between putting the fear of God into the public about sitting on benches and sharing the same three metre space and NHS workers being expected to sit cheek by jowl writing our notes near all the respiratory patients. We feel like we???re the last on the list of the government???s concerns and people are getting scared now.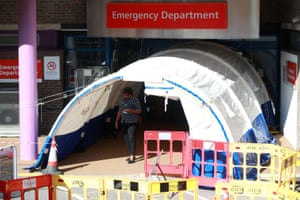 Intensive care nurse, Bristol
We usually get a lot of deaths but I???ve never had a problem. Sometimes we lose three people in a day but this situation is so scary for all of us. I???ve never seen something like this in my 12 years working for the NHS since moving from Kenya. We want the frontline staff to be tested so we know whether we are passing it on.
A gentleman passed away from Covid where I work. It was heartbreaking, and the whole situation is having an emotional effect on all of us. We are worried about not having enough staff to operate the ventilators as we are already on the brink.
I???m going back to work in the intensive care unit on Tuesday following two weeks in self-isolation. I still don???t know whether I???m infected and I will again work in a high-risk area looking after patients with suspected Covid before going back home to my daughters.